I dont know where to start. I was going to blog about how rough my day was....the boys were trying to see who could misbehave the most, etc, etc, etc and then I read about Little
Tuesday
on EM's blog. Please go
HERE
and read her story...and PRAY like you have never PRAYED before.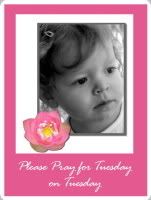 I went back and read this blog from the begining, well at least the begining of the bad stuff. I also found out today that a
close friends Grandmom has breast Cancer again
. Right now I am so down and sad and worried. So I gotta dig deep and figure out how to find hope after that bad news.
-Lets start with Trusting God. Trusting him to know what is best and leaving him to do his Will. We may not understand but we need to find Hope and have Faith that he is watching over all of us.
-Two sleeping (FINALLY) little boys.
-This is my weekend with C. Cant wait to see him tomorrow night.
-My 5 year old J, after seeing the blog about Tuesday and asking about her, automatically starting to Pray for Tuesday to get better. That child never ceases to amaze me.....how does a 5 year old know to pray like that? He also prayed earlier for me to feel better so that I could play with him.....how cute is that?
-May the God of hope fill you with all joy and peace in believing, so that you may abound in hope by the Holy Spirit.Romans 15:13